Gaia Impact Fund announces new investment in French company Mascara NT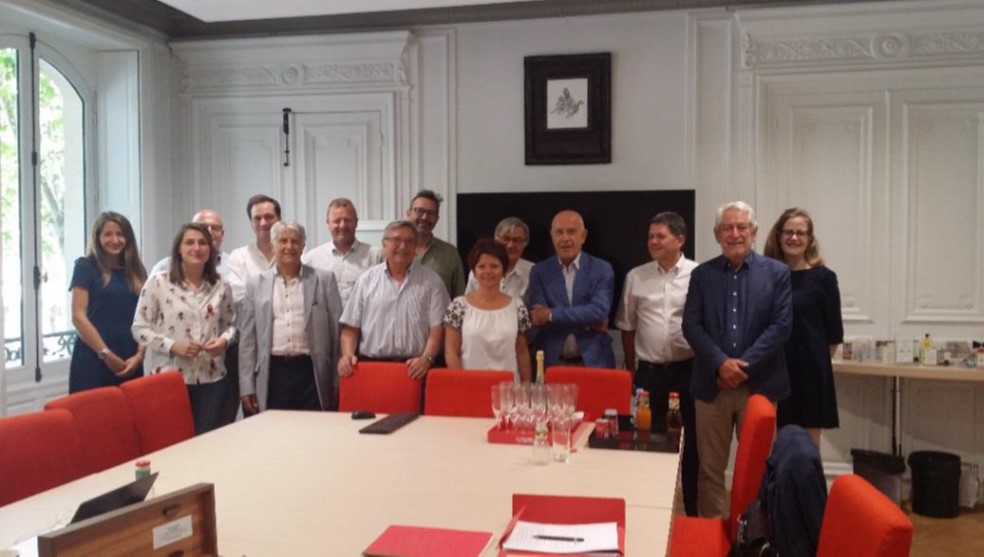 The company Mascara NT, which markets its products under the name Mascara Renewable Waters, was created in 2014. One of its founder, Marc Vergnet, is also the company director of Vergnet, a wind turbine manufacturer, and VERGNET HYDRO, a hydraulic pump manufacturer, distributed worldwide. Its other funder, Maxime Haudebourg, is a CEO in the fields of automation, special machines and agro-industry.
Mascara NT specializes in the R&D, manufacturing, installation and maintenance operations of membrane solar desalination systems for saltwater or brackish water.
As the only manufacturer in the world, with a patented technology, Mascara NT has developed and launched in 2017, a range of small and medium-sized seawater or brackish water treatment units, meeting the needs of isolated sites or sites connected to unstable electrical networks. That is:
A range of seawater desalination units "OSMOSUN® SW", from 1 m³ / day to 300 m³ / day.
A range of brackish water desalination units, "OSMOSUN® BW", from 10 to 300 m³ / day.
After having been tested for a year and a half at two sites in Abu Dhabi, with MASDAR and Bora Bora with SUEZ, then installed in a dozen of other sites, these OSMOSUN® units have proven their ability to produce fresh water in dry areas with large and regular solar deposits at a competitive price. The ongoing fundraising initiated with several Institutional Investors will open a new chapter to the company's development by enabling the acceleration of sales, the establishment of an industrialization process and the continuation of an important research program.
To this end, a new CEO, Quentin Ragétly, joins the company to carry out this growth plan. Marc Vergnet, President of the Company declares: "The water is missing and will dramatically fail humanity. Desalination appears to be an unavoidable alternative, but current fossil-fueled technologies are neither clean nor sustainable. The solar desalination solutions designed by Mascara are the solution of the future. I am very pleased to have convinced and gathered a group of leading investors to boost the development of Mascara and contribute to the water supply of dozens of thousands of island and remote communities. "
"We are delighted to be able to support the Mascara New Technologies team in scaling up sales of desalination units internationally, with strong ambitions in the field of operating medium-sized units. The unique technology patented by Mascara NT gives a head start in a very energy intensive desalination market, that becomes more and more inclined to reconcile the economic and ecological impact of its projects. We are also proud to welcome Impact Funds such as FAMAE and Gaia Impact Fund, which will bring their sectoral expertise, as well as WISEED, which has brought together a significant investor base, said Bruno JAS of Sofimac Régions and Hervé Bachelot Lallier from Go Capital, operation co-lead.
For Nicolas Sérès, co-founder and CEO of WiSEED: "The story of Mascara on WiSEED is a real success story! The project reached our thresholds in the voting phase in just 2 hours: a record! This enthusiasm was then confirmed during the collection: the 600k € objective was reached in less than a month! We were a community of 784 investors to welcome this innovative project tied to key ecological and social values. The team's experience, as well as the various technical tests, also played a decisive role. Mascara NT has all the qualities to succeed in the long term and is fully in line with the DNA of WiSEED, which has been a strong advocate of sustainable development since the beginning of the projects. We are happy to take part in this adventure and to – along with co-investors – give Mascara the ability to confirm its leadership position in the desalination market. "
Legal support
Legal advice of MASCARA NT: Altaïr Avocats (Philippe Beauregard / Chiara Mascarello)
Investor Legal Advice: Lamartine Conseil (Maeva Suire / Aude Marcheux)
About Mascara NT
SAS MASCARA, laureate of the two PIA2 and PIA3 innovation competitions sponsored by ADEME, has filed a patent that protects it in its main market targets: Africa, the Indian Ocean, the Caribbean and the South Pacific.
Its first commercial successes have led to the completion of 13 installations in the last two years which are as many exemplary references for the development of desalination markets using solar energy, the cheapest energy in the world today.
About Sofimac Regions
Sofimac Regions is an independent management company approved by the AMF which is dedicated to investment in development / transmission capital, local venture capital and reversal. Based in Paris, Clermont-Ferrand, Orleans, Lyon, Limoges, Aix-en-Provence, Caen and Rennes, Sofimac Regions benefits from a network of trustworthy institutional and private subscribers. Sofimac Regions manages 450 million euros invested in more than 200 companies.
The venture capital company Center Capital Development, managed by Sofimac Regions, has been located in the Center Val de Loire region since 1987. It participates as a minority stakeholder in equity and quasi-equity in development or business transfer projects for amounts up to 800 000 euros.
Its main shareholders are the Centre Val de Loire region, Bpifrance, regional banks, businesses, individuals and various consular and patronal organizations.
For more information: www.sofimac-im.com
About Go Capital
Go Capital is an independent management company managing € 200 million worth of seed capital and venture capital funds solely investing in innovative technology companies based in the West and the Center Val de Loire.
The Loire Valley Invest Fund, launched in April 2017, is endowed with 21.5 million euros and is subscribed by BPI, the Centre Val de Loire, the metropoles of Orléans and Tours, and banking partners (Crédit Agricole Center Loire Caisse d'Epargne Loire Center, Banque Populaire Val de France, BNPP), industrial and institutional partners (Groupama Paris Val de France, THELEM Assurances, EDF, Michelin, Revicentre). Go Capital, through its 6 FPCI under management (Go Capital Amorçage I and II, Ouest Ventures I, II and III and Loire Valley Invest) has invested in more than 100 companies mainly in the areas of Digital, Health, Healthcare and Energy Transition.
For more information: www.gocapital.fr
About WiSEED
WiSEED is the leader and the pioneer of crowdfunding in France. As a specialist in digital investment, WiSEED offers investors the opportunity to build a diversified, high-performing portfolio, invested in the real economy, and offers businesses fast, flexible and innovative financing solutions. Thanks to sophisticated expertise and strong collection capacity, WiSEED finances meaningful and value-creating projects in the environment, real estate, renewable energy, digital, health, food, secondary and tertiary. Since its creation in 2008, WiSEED has raised more than € 173 million for nearly 426 projects from more than 125,000 private investors, and has repaid 134 projects worth nearly € 66 million. WiSEED is an investment company approved by the ACPR and also has the status of PSI (Investment Services Provider).
For more information: www.wiseed.com
About FAMAE
FAMAE is a foundation created by Eric Philippon which hosts innovation competitions dedicated to sustainable development and supports projects that reduce our environmental footprint in all areas of the circular economy: waste management, water, food, mobility and energy. Mascara was the winner of the 2019 competition. The FAMAE IMPACT Environmental Impact Fund (targeting € 100m) supported the scheme.
For more information: www.famaeimpact.com
About Gaia Impact Fund
Gaia Impact Fund is a French impact fund dedicated to energy access entrepreneurs in Sub-Saharan Africa and South-East Asia (solar kits, mini-solar networks, pumps, tech).
Gaia was created by a team of entrepreneurs specializing in renewable energy and social impact investing. Since 2017, we have supported 8 innovative companies in emerging countries and are actively pursuing our investment strategy with strong social and environmental impact.
For more information: www.gaia-impactfund.com