Gaia Impact Fund supporting upOwa's development – Cameroon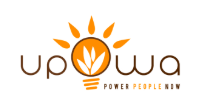 Last august 2017, Gaia Impact Fund took part in the fundraising process launched by upOwa, and has invested in this start-up specialized in renewable energies implanted in Cameroun on the Solar Home System (SHS) market.
Located in western Cameroun, upOwa aims at making electricity accessible for all while developping retail points for solar kits completes whith a high level of services and warranty in areas still not connected to the existing network.
Mastering the "Pay-as-you-go" technology by this franco-cameroonian start-up allows its clients to acquire to quality solar solutions at afrordable prices.
This investment reinforces the strategic deployment of Gaia Impact Fund in francophone Africa, and marks on the wishes of this impact fund to speed up the deployment of effectives energy access solutions in a region where the needs are still huge.