Innovex closes an equity investment with Gaia Impact Fund, a VC fund dedicated to renewable energy entrepreneurs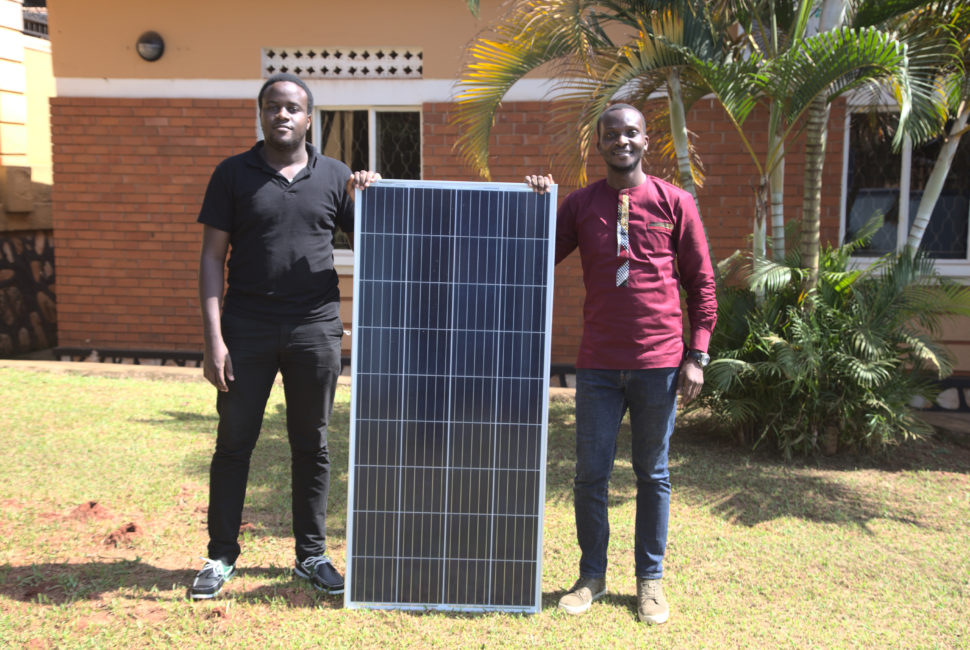 Douglas & David, Innovex co-founders at main office in Kampala
KAMPALA, UGANDA – Innovex, a Uganda-based startup enabling pay-as-you-go and remote monitoring for solar companies, closed a Series Seed Round with an equity investment from Gaia Impact Fund.
Innovex is a technology company with hardware and software development teams offering a service 100% made in Africa. The company was founded in 2016 by Douglas Baguma K and David Tusubira, both graduated from the Makerere University. The 2 co-founders came to the realization that solar energy had the potential to bridge the energy access gap for the 30 million Ugandans remaining without electricity, but were frustrated the technology was not reaching Ugandans fast enough. Douglas & David took on this problem by helping installers and distributors of off-grid solar energy systems to scale up using digital tools. There are 300 active solar companies in Uganda alone, and thousands more in sub-Saharan Africa.
The team has developed 'Remot', a cloud-based IoT solution enabling solar companies, EPC and distributors to remotely monitor and manage their energy systems. 'Remot' has transformed the way many of these solar companies do business such as better aftersales support and opening up pay-as-you-go for larger size solar systems. This has reduced overall downtime and improved accessibility of solar systems and equipment. Many of these solar assets are installed in facilities such as health centers, schools and SMEs across the 5 countries in the East African region i.e. Uganda, Kenya, Tanzania, DRC and Ethiopia.
Innovex stands out as a true African grown inspiration and has received support and recognition on the international stage from partners such as OVO, CISCO, Energy 4 Impact. The company received additional extensive support from the Royal Academy of Engineering in the UK, the Efficiency for Access Research and Development Fund and later the Carbon Trust under the Transforming Energy Access program.
Gaia Impact Fund will support the company's efforts to scale 'Remot' to 100 solar distributors across Africa thus enabling solar energy access to 3 million people by 2023.
Douglas Baguma, Innovex's CEO and co-founder says: "The biggest challenges that are faced with most solar companies revolve around selling a product at a price that is high for the people that need it most. Our efforts at Innovex are aimed towards fixing how solar energy is delivered both as a product and as a service to these low-income populations and we strongly believe that modern technologies have a transformational role to play. It is exciting that Gaia Impact Fund has bought into our mission and most importantly decided to make a bold move by investing in this future".
"The problem that we are solving is massive. It requires a great deal of commitment to transform the distribution of solar energy. We are delighted to have strong partners who recognize the urgency of the challenge in Gaia Impact Fund. We are also excited for the magnitude of impact that lies ahead." adds David Tusubira, Innovex's CTO and co-founder.
Hélène Demaegdt, Gaia Impact Fund's President, comments: "We're thrilled to start this journey with this fantastic team and work with one of the most promising technology companies in the energy access sector. Innovex definitely fills a gap in the value chain by bringing tailored solutions for solar companies and distributors and having a tremendous positive impact on off-grid communities. We look forward to working closely with Douglas and David and supporting them in their growth".
About Innovex
Founded in 2016, Innovex is a Ugandan company which aims to spur Africa's social-economic transformation through the development of novel technologies. Their competences include embedded systems, connected devices, web and software development, and wireless communication technologies. Innovex entered the market with a home-grown IoT solution. This solution, 'Remot', offers after-sales service support; remotely monitoring and controlling solar PV systems and equipment, and supporting preventative maintenance and repair activities. To-date, 'Remot' has been used in over 5 countries in Africa by solar companies and solar energy researchers.
Innovex contact: info@innovex.org
About Gaia Impact Fund
Gaia Impact Fund is a French impact fund dedicated to energy access entrepreneurs. Gaia Impact Fund invests in startups and SMEs operating in Sub-Saharan Africa and South-East Asia, and active on various segments: solar kits, productive uses of electricity, mini-grids, commercial & industrial solar installations, cleantech. Gaia Impact Fund was created by a team of entrepreneurs specialized in renewable energy and social impact investing. Since 2017, Gaia Impact Fund has supported 11 innovative companies in emerging countries and is actively pursuing its investment strategy with strong social and environmental impact.
Gaia Impact Fund contact: www.gaia-impactfund.com