Gaia Impact Fund closes an investment in Easy Solar in Sierra Leone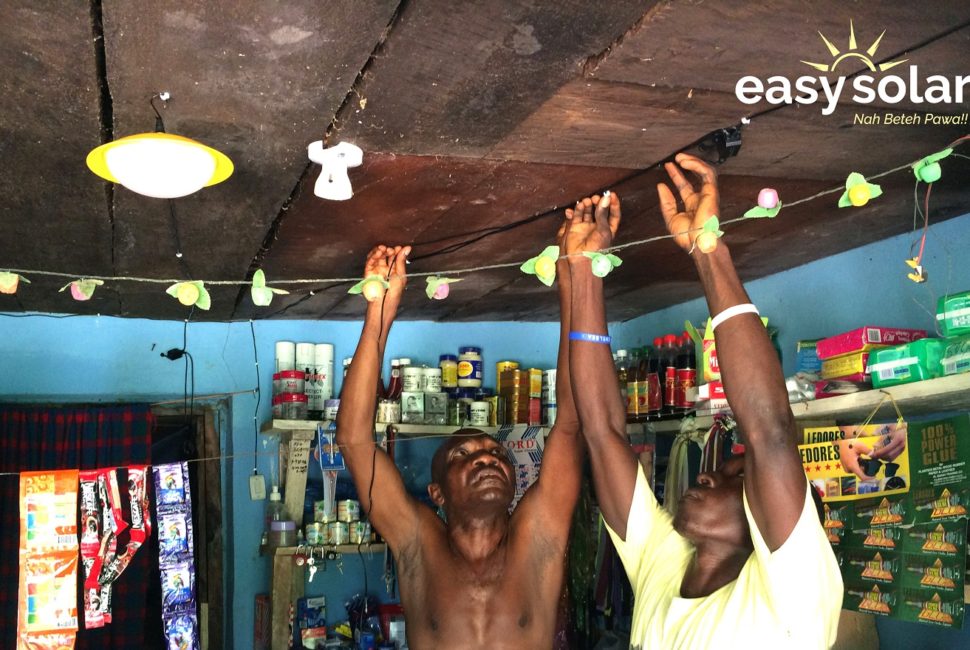 Easy Solar pioneers cash-payment pay-as-you-go for low-income customers in Sierra Leone
New York, NY — Acumen, the nonprofit global venture fund, and Gaia Impact Fund, a venture fund specializing in clean energy, announced today their investment in Azimuth (trading as Easy Solar), a pay-as-you-go solar distribution company operating in Sierra Leone. Easy Solar is the second investment under Acumen's Pioneer Energy Investment Initiative, an effort to bridge the funding gap in off-grid energy and accelerate access across the developing world. Launched in April 2017, the initiative aims to impact 8 million lives by 2026.
Easy Solar is making clean energy affordable to those underserved by the grid by offering solar-powered devices on a rent-to-own financing structure. More than 87 percent of Sierra Leone's 6.4 million people live without electricity and, in the country's rural communities, only one percent have access. To serve these populations, the company tapped into the Sierra Leone Energy Revolution following the government's commitment to nationwide energy access by 2025.
The backbone of off-grid energy access has become pay-as-you-go technology, relying on mobile money for customers to make payments. Easy Solar is daring to go into a market where mobile money is virtually nonexistent, unlike many of its East African counterparts, to deliver solutions to the poor. Easy Solar's online platform allows the company to track where payments stand at all times while empowering its agents to serve their customers. Easy Solar is building a brand based on trust, enabling it to overcome many of the hurdles in delivering energy solutions in a challenging market.
Easy Solar was founded by Alexandre Tourre, Nthabiseng Mosia and Eric Silverman who each bring different skills to the table including mergers and acquisitions, data science, strategy, and a deep knowledge of Sierra Leone. "We invested in Easy Solar because of the audacity of the team to impact one of the world's poorest markets," said Leslie Labruto, Global Energy Lead at Acumen. "Easy Solar's founding team has the right recipe of grit, local knowledge, and intuition to become a top employer in the country and make an off-grid energy company work in Sierra Leone."
Operating since 2016, Easy Solar has grown from under 500 customers in early 2017 to more than 7,000 today. The company is quickly building a nationally trusted brand by providing best-in-class customer service to deliver pico-lantern and solar home system products to their customers.
"We see our investment in Easy Solar as an opportunity to help scale an energy company serving low-income customers and building a new clean economy in Sierra Leone," said Guilhem Dupuy, Investment Manager at Gaia Impact Fund. "We are excited to partner with Acumen in supporting entrepreneurs and companies committed to bring an end to energy poverty."
Sierra Leone is a new market for Acumen, which now works in 13 countries across East and West Africa as well as Latin America, South Asia and the United States. While the country has faced a number of challenges—from its 11-year civil war to the Ebola crisis in 2014 to a rash of mudslides in 2017—Acumen and Gaia Impact Fund see Sierra Leone as a frontier market prime for entrepreneurs to develop affordable, sustainable solutions across multiple sectors that serve the poor.
"Sierra Leone presents a complex environment, but one where we know we can excel," said Eric Silverman, co-founder of Easy Solar. "We are thrilled Acumen and Gaia Impact Fund took a bet to invest capital not only in us but in our team as whole and ultimately in the country."